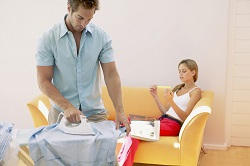 The kitchen is the heart of your home and gets a lot of use. For the safety of you and those around you it is important to keep it hygienically clean at all times. When preparing and cooking food the areas you need to be kept clean at all time to prevent germs and possible illnesses that can be caused from bad hygiene ways. The oven and hob is among the jobs that need to be cleaned regularly. Oven cleaning is a messy job and often a job that is left until it gets so bad, it can be impossible to treat without a range of hazardous chemicals to remove the dirt and reside that can build up from burnt food and spillages. Here we help advice you on keeping your oven and hob clean so that it doesn't turn into a chore you dread.
Helpful hints for cleaning the oven
One of the best habits to get into with hob and oven cleaning is to make sure you clean it every time you use it. Yes, this can sound like a chore, but after you have finished cooking simply use hot soapy water and a cloth or scrubber and wipe all over the hob and inside the oven. This means that any spilt food will be mopped up instantly instead of being left to cook again and again until it can lead to a potential fire hazard and set alight. The smell of burning food is not appealing so cleaning after each use will prevent this happening.
Being prepared
This trick may not get to the harder deposits that can stick to the racks inside the interior of the oven. Make sure you have some good oven cleaning product to get rid of this type of buildup. There are many good products available from most supermarkets and DIY shops. Some are more hazardous than others, so it may be worth noting how to use them and reading carefully before use. You will need to wear protective clothing, mask and gloves when applying these detergents. Many work by having to be left overnight, so that the dirt dissolves. Make sure you cover up with plastic sheets on flooring and surrounding worktops to prevent any damage from the cleaning solution. Have plenty of old cloth on hand to rinse the racks the next day. Use plenty of clean water to completely rinse away all traces of the chemicals.
Greener ways of cleaning
Some methods are eco friendly and home store cupboard ingredients such as baking soda, lemon juice and vinegar are all effective and will not cause any harm to you or the environment. If your oven has seen better days and in a complete mess a good investment is a steam cleaners. This piece of equipment works by cleaning with steam and is not harmful to you or the atmosphere. It is designed to dissolve tough burnt on deposits and leaves the entire oven spotlessly clean. You need to be aware of the high temperatures that you are cleaning with, so read the instructions carefully and wear suitable clothing to prevent burning. Steam is a great cleaning solution and is known to kill bacteria and germs. They can be used for every type of cleaning in the home from rug, carpet to window cleaning so they are a good investment if you want an easier alternative to using the traditional elbow and grease type method.


You may also like: